Waking up to a healthy breakfast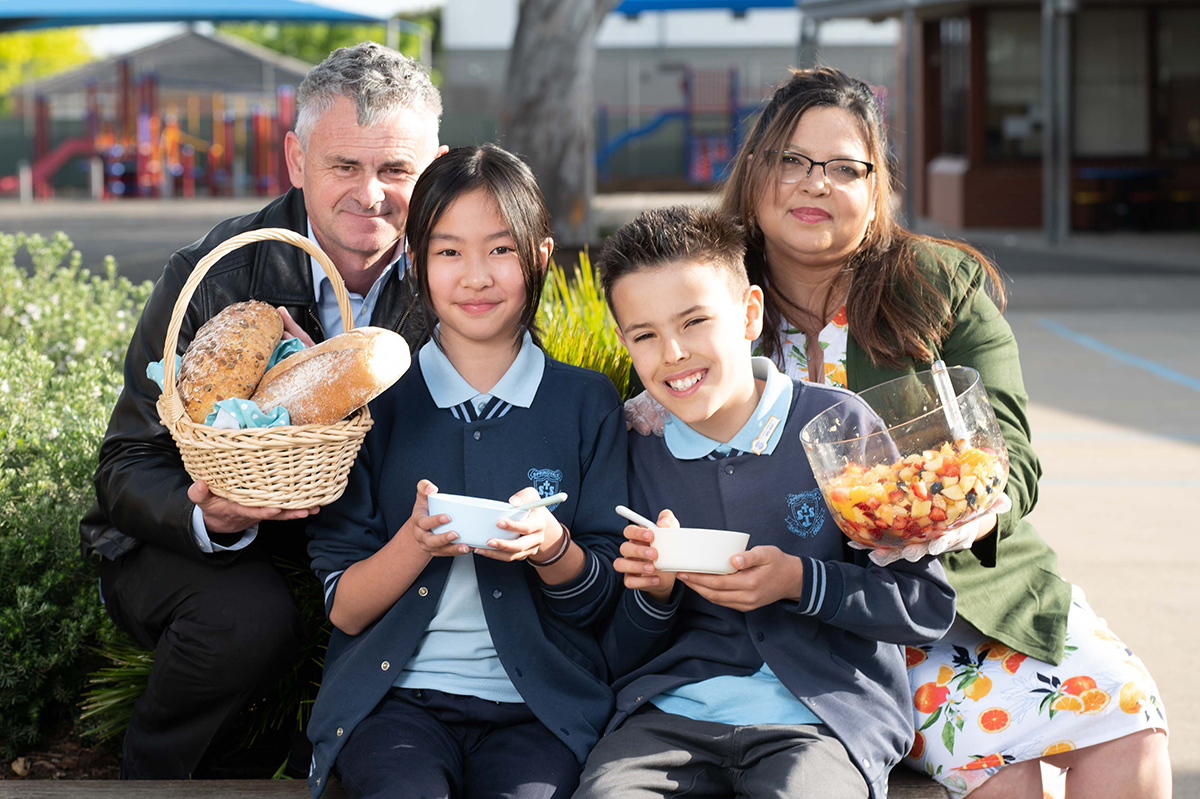 Thursday, February 2, 2023
Students from St Joseph's Primary School with Assistant Principal Alan Brew and Wellbeing & Student Engagement Coordinator Judith Peres.
Providing school children with a healthy and nutritious breakfast gives them the energy they need to learn, play and be their best. Recently, our Healthy Kids Advisor in the City of Greater Dandenong learnt of a growing need from local schools to provide extra support to students coming to class on empty stomachs.
"Principals described to me how more and more students were coming to school hungry, but they didn't know how to set up a breakfast program or even where to begin. It's so satisfying to see how initial conversations with my Council partners led to developing the fantastic resource we are seeing today."
Belinda Nowakowski, Healthy Kids Advisor — City of Greater Dandenong
Noticing an opportunity to boost knowledge and connect with community allies, Belinda gathered key information for the Principals and teaching staff interested in kick-starting a Breakfast Club. She compiled a list of simple and healthy breakfast recipes, provided connections to local food donations and volunteers, and compiled a directory of emergency food relief organisations for families in need. 
Belinda shared this feedback with her Council partners, and with their guidance and direction, they produced the School Breakfast Resource Kit. This free kit provides all the information schools might need to start and run their own breakfast program.
A Breakfast Club in action
St Joseph's Catholic Primary School in Springvale has been working with Belinda to transform their school's canteen menu and work towards Vic Kids Eat Well milestones, Assistant Principal Alan Brew expanded his commitment to healthy eating by opening their own self-funded Breakfast Club. Children enjoy a variety of cereals and fresh fruit, and a local baker happily donates bread for the toasties and spreads.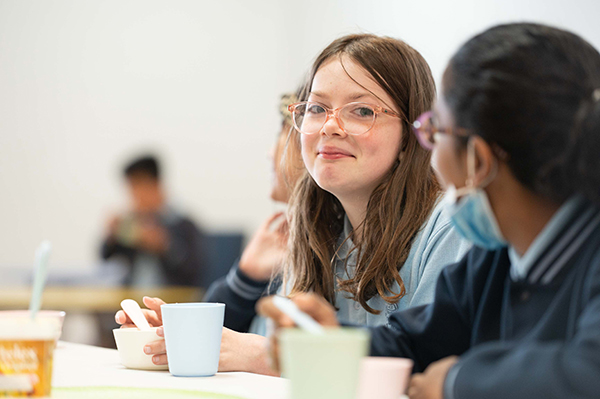 Breakfast programs can increase children's ability to concentrate in class, improve punctuality, contribute to social skills and provide young people with decision-making skills around healthy food options. The teaching staff at St Josephs's Catholic Primary School have noticed the Breakfast Club isn't just a pitstop for a quick bite to eat. Students come to socialise with friends and involve themselves in preparing and sharing cereals, fruits and yoghurt.
"I like coming to Breakfast Club because fresh fruit and healthy food help us learn, and the children can make new friends." 
Linara, Grade 6, St Joseph's Catholic College
About the Healthy Kids Advisor initiative
Our Healthy Kids Advisor in Greater Dandenong is connecting with schools, outside hours school care, sports clubs and community/council facilities to help boost access to healthy food and drink options. All these facilities in Greater Dandenong can receive free one-on-one support from their Healthy Kids Advisor. 
Our dedicated workforce of Healthy Kids Advisors operate in 13 communities to deliver pleasurable food education and boost participation in the Vic Kids Eat Well movement. Vic Kids Eat Well is a state-wide initiative supported by the Victorian Government and delivered by Cancer Council Victoria's Achievement Program, in partnership with Nutrition Australia's Healthy Eating Advisory Service.
Want more information?
To connect with us or find out more, visit our web page and news page, or email hka@kitchengardenfoundation.org.au
Follow us
@sakgf #HealthyKidsAdvisors

< Back to Latest News