Passionate teacher leads healthy shift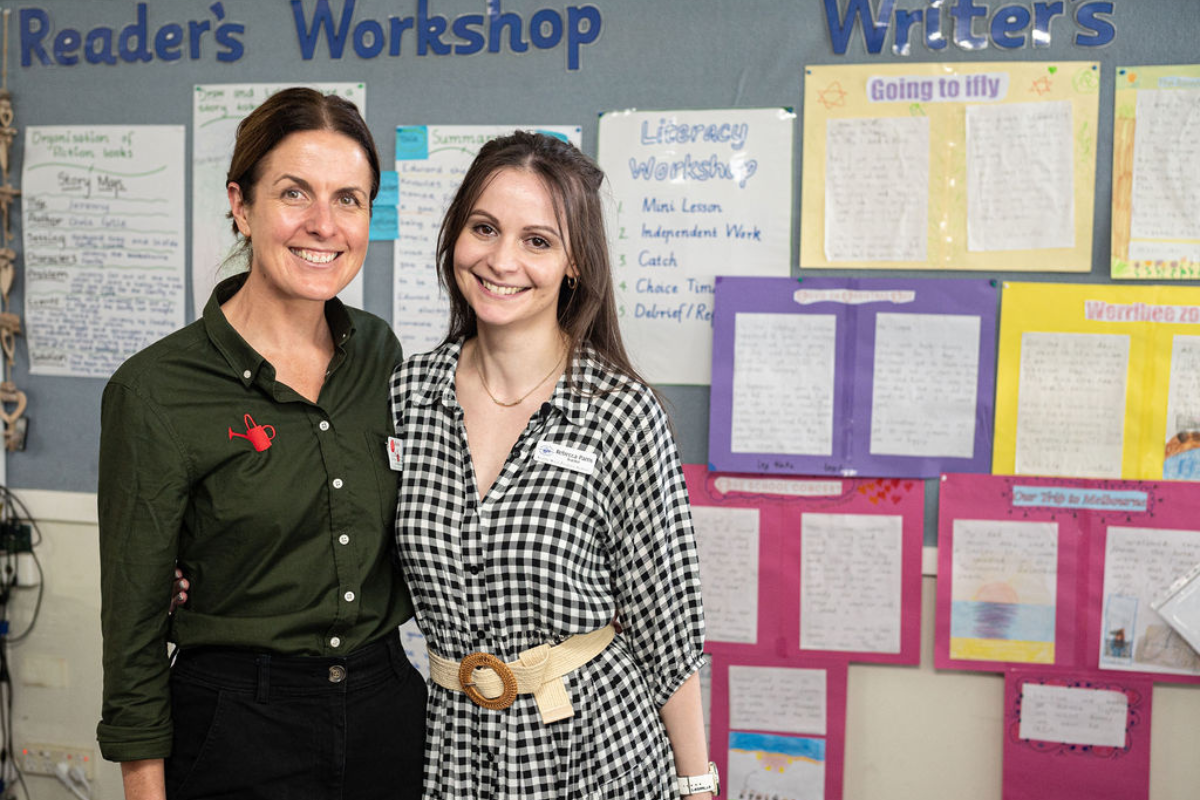 Thursday, August 17, 2023
Kialla West Primary School is located just outside of the regional hub of Shepparton on Yorta Yorta country. A medium-sized school with around 200 students, they have a strong network of teaching staff working together to ensure their Prep to Grade 6's have abundant access to fresh, nourishing food and drink.
For the past 18 months, Katie Thorp (Healthy Kids Advisor — City of Greater Shepparton) has linked with the school to make their classrooms and play spaces fun, informative platforms to connect students to positive food experiences.
This relationship with the Healthy Kids Advisors initiative has given a passionate teacher at Kialla West the elevation she was seeking to finally achieve the healthy eating goals she had earmarked for implementation.
With teachers and principals around the country often challenged with a heavy workload and extracurricular commitments, addressing healthy food and drink is often a wish list item that many schools need help to get to.
"If you're a teacher and you're passionate about this area as well, but your workload is so incredibly heavy that you just don't have the time to physically to do it, then I highly recommend you get in touch with your local Healthy Kids Advisor. They have the means, the how, and the passion. Together, you will achieve great things."

Bec Parris, Grade 2 Teacher
Banding together
Kialla West was already committed to providing students with opportunities to celebrate good health and wellbeing. For instance, Principal Wes Teague and the Parents & Friends group had consciously moved away from traditional fundraiser drives, like chocolate boxes, and replaced them with other fundraisers, like crazy sock day. Principal Wes Teague has built a positive and engaging school culture for his teaching staff and parents, that embraces new ideas and collaborative problem-solving.
Grade 2 Teacher Bec Parris is the cornerstone staff member leading the charge for healthy eating at Kialla West. Teaching students for the past seven years, Bec has always had a passion for healthy eating and wanted to introduce positive food and drink adjustments at the school. She spoke with Wes, and together they agreed to reach out to their local Healthy Kids Advisor, Katie Thorp.
"The school loved all of the ideas that I was able to bring to them," explains Katie. "They were just so willing and able, and that came from the leadership groups from the very top, right down to the kids and families. Bec Parris, one of their junior school teachers, has been incredibly passionate and a real driver."
Katie was initially tasked with running classroom sessions with the junior year groups to explore the colourful variety of local fruits and vegetables and their nourishing 'superpowers'. The juniors were engaged and excited about the classroom learning, so Katie ran additional workshops with the senior year groups to set students up for further conversations around boosting their school with plenty of fresh water and beneficial food.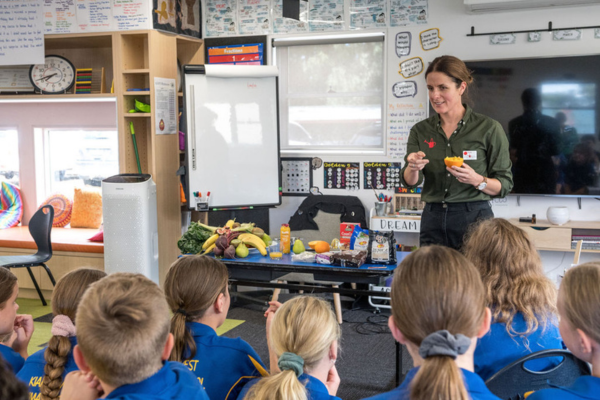 Tasty variety at the school canteen
Having listened to staff and student voices about the healthy ideas they wanted to usher into the school, Katie was excited to meet the talented Kamal Sidhu, a motivated, dedicated parent and the school's Canteen Manager.
Kamal prepares everything from scratch on Thursdays and opens up the roller doors to students and staff every Friday. Her cultural background influences the dishes she prepares, with fragrant vegetarian and Indian cuisine regularly served to the grateful school community.
Katie has enjoyed collaborating with Kamal to achieve Vic Kids Eat Well adjustments on the canteen menu. Together, they've boosted healthy variety by reducing the number of processed pies and pastries to just two healthy options. They've introduced an air fryer to cook the chicken schnitzels, boosted salad in the wraps and wowed the students with frozen pineapple rings, which have replaced high-sugar frozen lollies.
Katie has provided recipes to Kamal for easy, wholemeal blueberry muffins and carrot cake, which Kamal now bakes fresh each week. Only two chocolate treats are left on the menu, encouraged as special occasion purchases.
The teachers of Kialla West practice great role modelling for the children, ordering their healthy lunches from the canteen every week. Having new options on the menu has been a help for the teaching staff because by Friday, the staff are typically exhausted, and all their meal prep for the week has usually run out. "It's great to have lots of different healthy options on our canteen menu," says Bec. "Not just for the kids, but for our staff as well."
Simple, seasonal food spreads throughout the school
"Katie has really helped us with refreshing our canteen menu. We've got our veggie garden up and going, and we've started implementing updates in our weekly newsletter to let parents know how we're tracking with our healthy goals."

Bec Parris, Grade 2 Teacher
With discussions flowing, the buzz around fresh, delicious food reached Kialla West's Italian class. Rose Corbo (Signora Corbo to the students) was inspired to run a cook-a-long with her year levels to prepare and share an Italian bruschetta recipe. Students read the recipe in Italian and practised their conversational skills while preparing and sharing their toasted sourdough topped with juicy tomatoes, garlic and basil.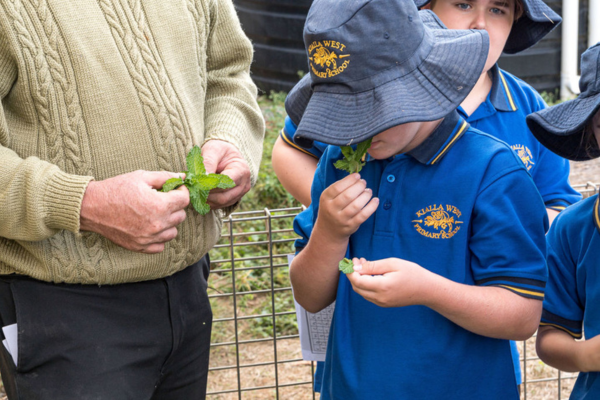 Like many schools post-Covid, there was only a shell of a vegetable patch at Kialla West when full-time campus life recommenced in 2022. The school's Chaplain, Tim Ford, has led the reinvigoration of the garden area, encouraged by Katie and Bec's enthusiasm to get the garden space flourishing again. Tim holds weekly garden drop-in sessions at recess and lunchtime for students to chat together and tend to the silver beet, mint, corn and other leafy greens.
"Schools all around the country have had many challenges post-Covid," says Bec. "One of the biggest challenges I've seen in the classroom is student stamina. It's been a bit of a challenge to get them back on track to read and write for an extended amount of time without needing little brain breaks in between."
Bec and other teaching staff agree that when their students are well nourished and eating fruits and vegetables, their concentration levels and happiness are significantly better. This colourful variety of food helps children get the energy they need to play at lunchtime and still come back to the classroom focused and alert.
Katie's role at Kialla West has been a rewarding journey, especially the chance to work alongside Bec and lift up the school to achieve all the targets they'd hoped for. "I am so excited to see Kaila West Primary School continue to thrive and prosper in this space," Katie says. "They have done such a wonderful job, and I know they will continue to have wonderful plans and visions for what the rest of the year will look like."
About the Healthy Kids Advisors initiative 
The Healthy Kids Advisors initiative is delivered by the Stephanie Alexander Kitchen Garden Foundation and supported by the Victorian Government and Australian Government. 
This community engagement initiative is active in 13 priority communities to spread pleasurable food education and encourage participation in the state-wide Vic Kids Eat Well movement. 
In collaboration with local health promoters, Council and community, our Advisors offer free support and simple ideas to boost healthy and delicious food and drink in schools, sports clubs, after-hours care and council-run facilities. 
Want more information?
Visit the Healthy Kids Advisors news page or contact us at hka@kitchengardenfoundation.org.au
Follow us
#HealthyKidsAdvisors, on Facebook, Instagram, Twitter, and LinkedIn. 

< Back to Latest News