Working alongside VACCHO to connect with community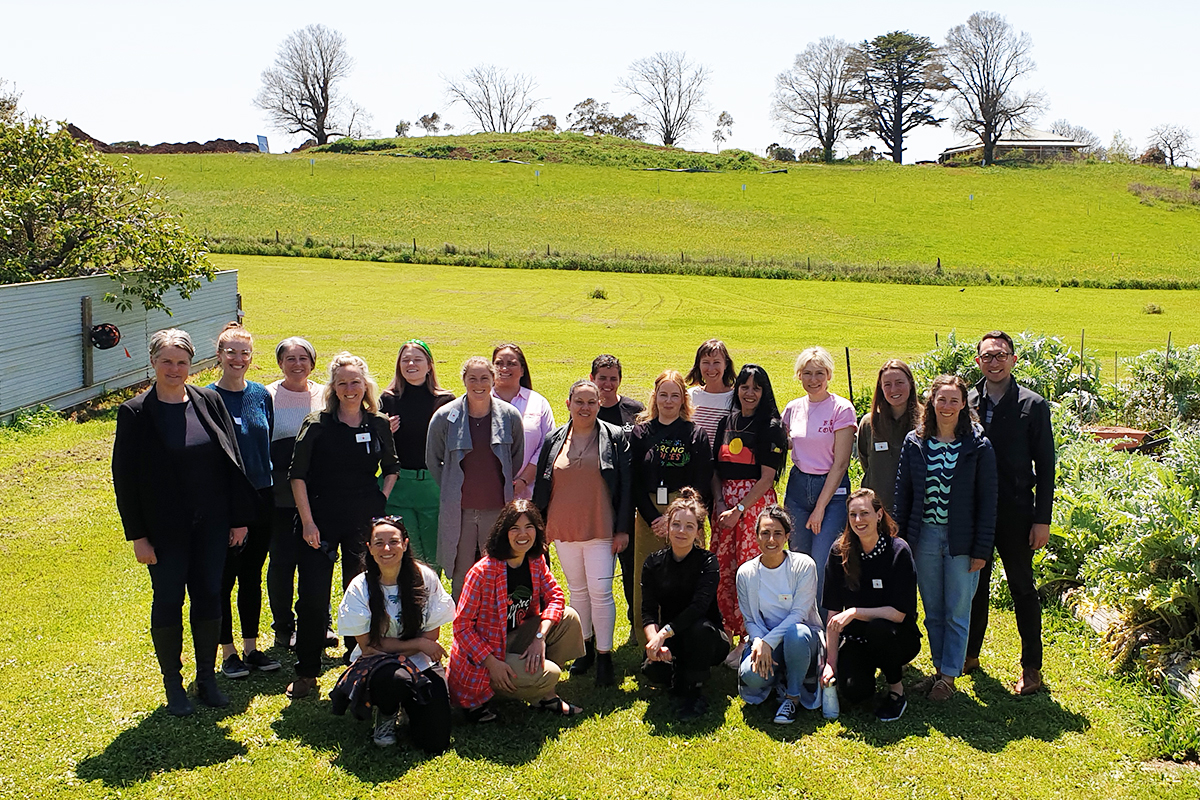 Monday, November 28, 2022
This year, our Healthy Kids Advisors initiative has proudly worked alongside the Victorian Aboriginal Community Controlled Health Organisation (VACCHO) to align our work with culturally safe practices and explore ways to meaningfully connect with Aboriginal Community Controlled Organisations (ACCOs) and Aboriginal children and families.  
All our Advisors have completed VACCHO's Introduction to Aboriginal Cultural Safety. This immersive course offers foundational knowledge and awareness of Aboriginal and Torres Strait Islander peoples, identities and cultures while exploring the basics of cultural safety and simple ways to put it into practice. This training module is a key part of the Foundation's journey and collective commitment to reconciliation and establishing culturally informed practices across our organisation. 
To build on this knowledge and further explore mutually beneficial connections, we were thrilled to have a team from VACCHO join the Healthy Kids Advisors for an in-person workshop in October. We learnt about the proud history of VACCHO and delved into the Nutrition team's collaborative work with Member ACCOs to improve food security and nutrition outcomes for Aboriginal and Torres Strait Islander communities. 
Our Advisors have jumped at opportunities to observe the VACCHO Nutrition team's FoodPath workshops and connect with Aboriginal families and young people at sports carnivals and wellbeing expos. We were present at a statewide junior football and netball carnival organised by the Victorian Aboriginal Community Services Association Ltd (VASCAL) and hosted an educational stand at the Deadly Day Out Health & Wellbeing Expo organised by the Bendigo & District Aboriginal Co-operative (BDAC). 
"I had the pleasure of observing Bendigo's FoodPATH workshops. Participants identified the factors contributing to food choices in the community and how many of these factors are interconnected. It was wonderful to witness the enthusiasm and discussion in the room as they unpacked potential actions to improve the community's food environment." 

Rebecca Fry, Healthy Kids Advisor — Greater Bendigo  
80% of our Advisors have engaged with an ACCO in their region. We are actively collaborating with our Council's Aboriginal Coordinators and sharing cultural resources with our stakeholders and settings. Some of our most valued resources have been the Healthy Tucker for Deadly Mobs videos developed by the City of Greater Dandenong in partnership with Dandenong & District Aborigines Co-operative Ltd (DDACL) and VACCHO's Healthy, deadly lunch boxes.
Looking ahead in 2023
Our Healthy Kids Advisor for Northern Grampians, Lauren Dempsey, has connected with Budja Budja Aboriginal Cooperative in Halls Gap and is working alongside a dietitian, exercise physiologist and VACCHO to host an Open Day in 2023. The Open Day will offer hands-on cooking and gardening activities to spark conversations about how best to support local families' healthy food and drink goals. 
Rumbalara Football and Netball Club have joined forces with our Healthy Kids Advisor in Shepparton, Katie Thorp. Katie will deliver pleasurable food education to the young people of the club and step the canteen through the Vic Kids Eat Well program.
Recently, Katie joined Rumbalara to volunteer at their popular Homework Club. This is where school students attend the football club to share a nutritious after-school snack, practice the Yorta Yorta language and get support with their reading, writing and maths. Katie hopes this volunteering becomes a regular opportunity to connect with the club's primary and secondary school students.
"I hope to support Rumbalara into the future with a tasty, nourishing menu for their new canteen. Janelle and I have dreams to establish a veggie garden at the club for the canteen to use on game days, during homework club and in school holiday programs."

Katie Thorp, Healthy Kids Advisor — Shepparton
Jane Killmister, the Healthy Kids Advisor in Glenelg, linked up with the Dhauwurd-Wurrrung Elderly & Community Health Service to discuss ways to support a Health Promotions Day during their school holiday program. Jane will offer a hands-on gardening activity for children and young people to encourage healthy and delicious ideas to cook with fresh, local produce. There are also talks around engaging the Women's Group and Men's Group to revitalise the garden at Ngoot-Yoong Cultural Healing Centre, which will reopen in 2023.
About the Healthy Kids Advisors initative
The Healthy Kids Advisors initiative is delivered by the Stephanie Alexander Kitchen Garden Foundation and supported by the Victorian Government and Australian Government. 
This community engagement initiative is active in 13 priority communities to spread pleasurable food education and encourage participation in the state-wide Vic Kids Eat Well movement. 
In collaboration with local health promoters and the Council, Our Advisors offer free support and simple ideas to boost healthy and delicious food and drink in schools, sports clubs, after-hours care and council-run facilities. 
Want more information?
To connect with us or find out more, visit our web page and news page, or email hka@kitchengardenfoundation.org.au
Follow us
@sakgf #HealthyKidsAdvisors

< Back to Latest News