Flood-affected schools receive a healthy boost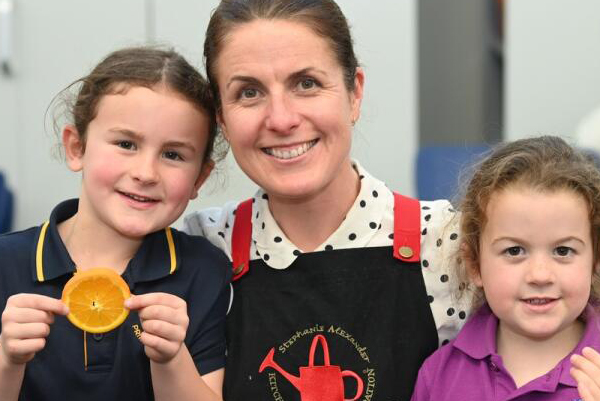 Thursday, November 3, 2022
Image credit: Healthy eating on the agenda article in Shepparton News.
Our Healthy Kids Advisor in Shepparton, Katie Thorp, has been pivoting to the needs of her community who are coping with the aftermath of the recent floods in Central Victoria.
Flash flooding from heavy rain caused over 4,000 properties to be isolated or heavily inundated with rising water from the Goulbourn River. During peak flooding, Katie turned her efforts to support her partners at the Greater Shepparton City Council's Active Living department who were on-the-ground coordinating the emergency relief shelter at Shepparton Showgrounds. The relief centre housed upwards of 400 local residents who were relocated until flood waters subsided.
Thankfully, flood levels have since stabilised. Small businesses and farms are starting to assess the damage and start to rebuild. 
Shepparton students return to school
As schools reopen again, Katie is responding to requests from the 20 local Principals she works with. Schools are noting that some children have returned to class rattled and distracted. Teachers are keen to invigorate and positively engage their students after the recent classroom closures, and have called on Katie to reconnect with children through feel-good healthy eating activities. 
At Grahamvale Primary School students are designing a functional kitchen garden space and pledging their school's committment to healthy eating through an arts-based activity. While over at Bourchier Street a Wellness Day is taking place with Katie designing colourful, fragrant hands-on cooking demonstrations for 600 students and encouraging the older students to refresh their canteen menu and invent healthy fundraising efforts.
This surge in Katie's school visits showcases our Advisors flexibility to adapt to the demands of the community. Katie's presence is helping to rebuild a sense of belonging and pride in the Shepparton schools and community she is embedded in.
About the Healthy Kids Advisors initiative 
The Healthy Kids Advisors initiative is delivered by the Stephanie Alexander Kitchen Garden Foundation and supported by the Victorian Government and Australian Government. 
This community engagement initiative is active in Shepparton and 12 other priority communities to spread pleasurable food education and encourage participation in the state-wide Vic Kids Eat Well movement. 
In collaboration with local health promoters and the Greater Shepparton City Council, Katie Thorp offers free support and simple ideas to boost healthy and delicious food and drink in schools, sports clubs, after-hours care and council-run facilities. 
Want more information?
Read the FAQs, visit the Healthy Kids Advisors news page or contact us at hka@kitchengardenfoundation.org.au.
Follow us
#HealthyKidsAdvisors, on Facebook, Instagram, Twitter, and LinkedIn. 

< Back to Latest News