Canteen Champions: Jodie, Maryborough Giants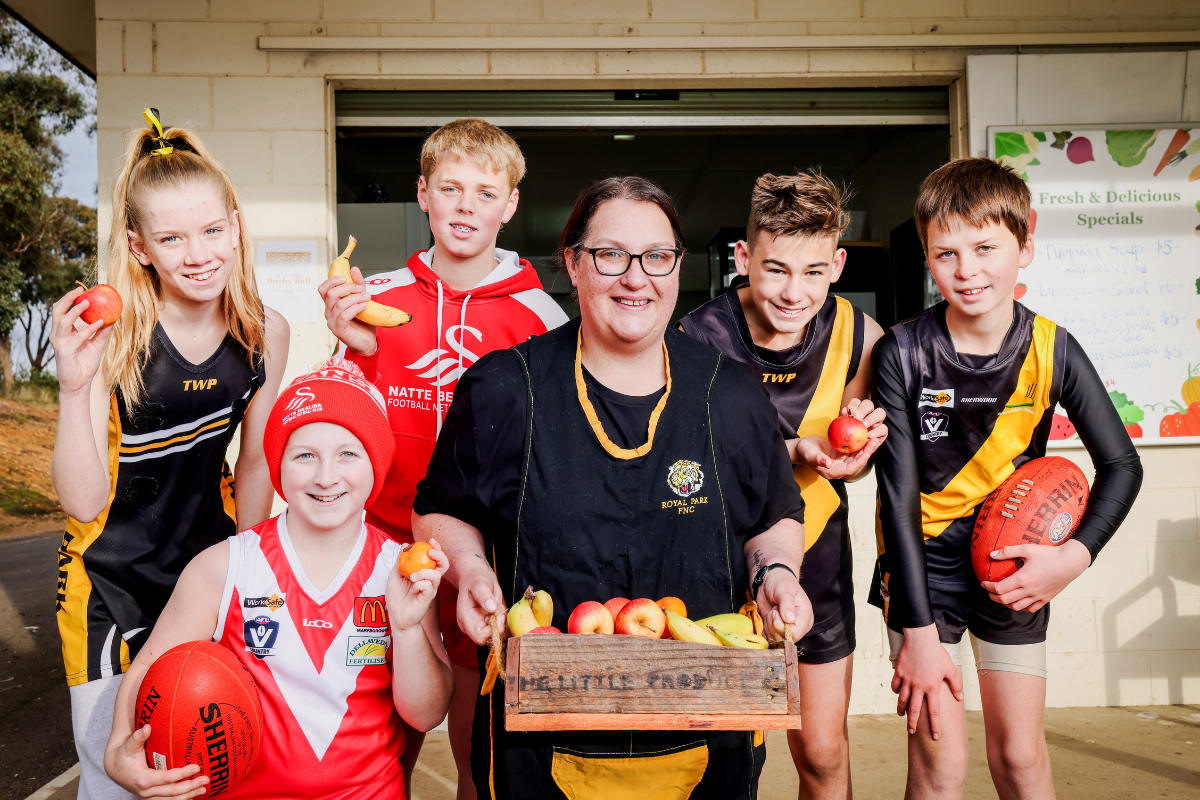 Monday, October 23, 2023
School canteens and sports kiosks are important sites for celebrating healthy, nourishing food and drink. Our Healthy Kids Advisors are proud to work alongside hundreds of local 'Canteen Champions' to support them in increasing fresh, delicious food options for their community's young people and families.
We've hand-picked four Canteen Champions from Victoria to share their stories, vision and best-selling dishes. First up is Jodie, a passionate volunteer at Maryborough Giants Football Netball Club, who is dishing up incredible, homemade meals for junior footy stars, netballers and their families.
"I open the kiosk for footy training on Thursday nights and cater for the big home day matches on Saturdays, which run from 9.00 am to 4.00 pm. On these match days, I start at around 6.30 am to prepare dishes from scratch—things like lasagne, soup and chicken souvlakis.
Because I'm a volunteer, I rely on my family to help me run the kiosk alongside other volunteers, who are mostly parents and extended family members of the team. Often, we'll have junior members step in to help serve their teammates after the game.
I recently trialled a brand-new menu and sold out of all the fresh specials. We had homemade pumpkin soup with a bread roll, chicken souvlaki wraps with salad, fresh salad rolls and sandwiches, homemade berry yoghurt and granola pots and our new junior lunch boxes, which contained a fresh sandwich, piece of fruit, water bottle and a slice for just $5. Most of these menu items were priced between $4 to $6.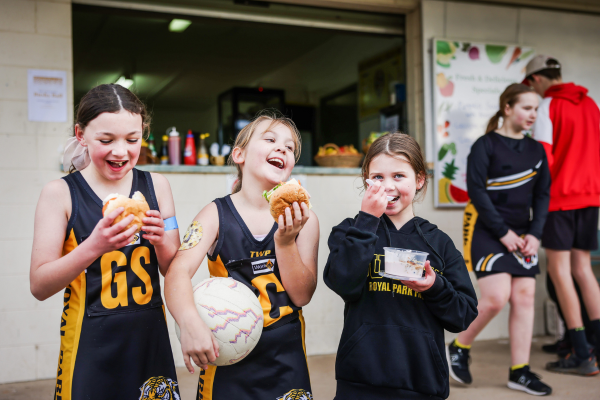 I've had good feedback about the new menu, and people say the kiosk looks nicer with the fresh, colourful food items on display. I've noticed that if the new items are displayed clearly on the countertops and look colourful and fresh, it helps with sales too. Big, bright advertising of meal deals and fresh specials on a huge menu board are also a big help!
Pastas, salad rolls, and healthy wraps have been the most popular new additions because they're easy to eat and not too heavy before playing a game. We still sell hot chips because they're a crowd favourite. Classic items like dim sims and crumbed chicken strips will be moved to the air fryer next season. I'm also limiting the sugary drinks, energy drinks and lollies from the menu and making healthier drinks and snack options available.  
It's important to offer healthier options and reduce the sugary items so that customers, players and kids can choose a better option. Most juniors will buy their breakfast from the kiosk, and are at footy all day, so it's good to offer more nutritional foods instead of what the canteen has always done.
To be successful in a role like this, you need to be super organised and be prepared to work the hours.  My best advice to other sports clubs? Choose fresh menu items that will appeal to young players as well as older players, and remember, add salad to everything!"
Keen to hear from our other Canteen Champions?
Read about Kerrie from Bolwarra Primary School here. 
Read about Zoe from Athol Road Primary School here. 
Read about Sally from Hamilton & Alexandra College here. 
 About the Healthy Kids Advisors initiative 
The Healthy Kids Advisors initiative is delivered by the Stephanie Alexander Kitchen Garden Foundation and supported by the Victorian Government and Australian Government. 
This community engagement initiative is active in 13 priority communities to spread pleasurable food education and encourage participation in the state-wide Vic Kids Eat Well movement. 
In collaboration with local health promoters, Council and community, our Advisors offer free support and simple ideas to boost healthy and delicious food and drink in schools, sports clubs, after-hours care and council-run facilities. 
Want more information?
Visit the Healthy Kids Advisors news page or contact us at hka@kitchengardenfoundation.org.au
Follow us
#HealthyKidsAdvisors, on Facebook, Instagram, Twitter, and LinkedIn. 

< Back to Latest News