Wholesome harvest from small beginnings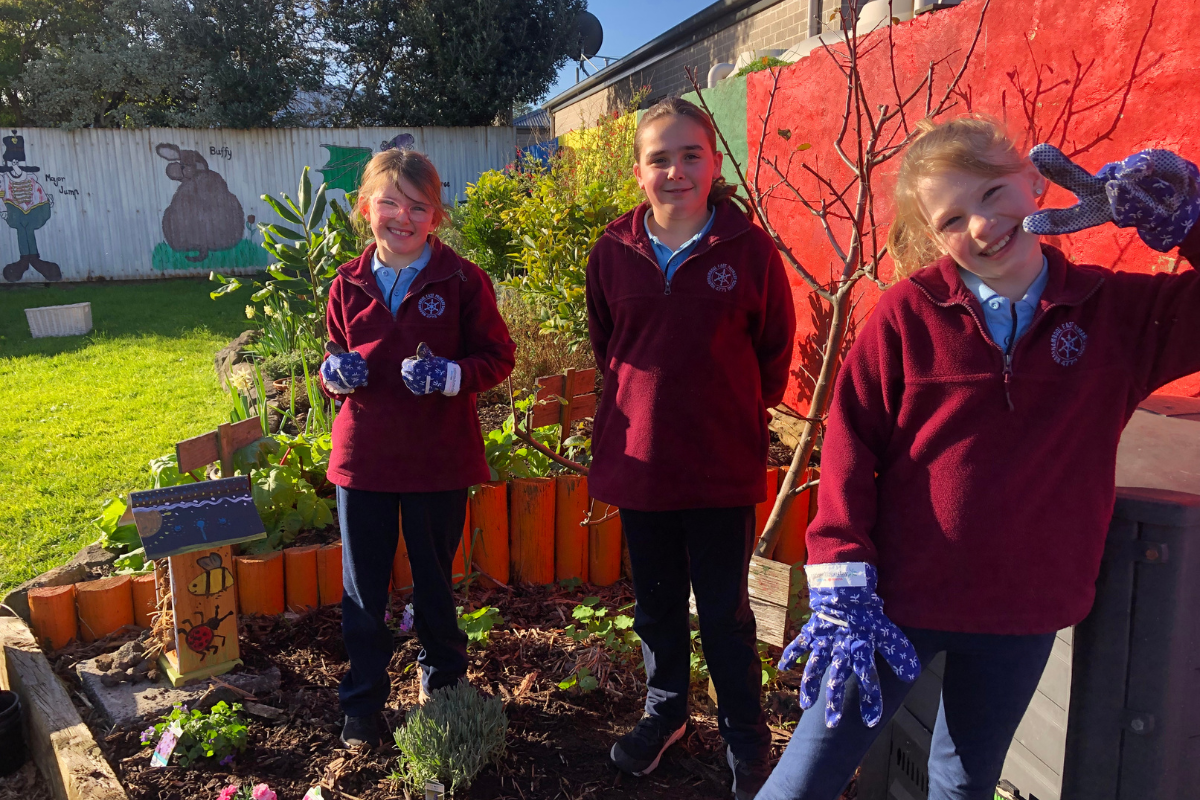 Wednesday, August 30, 2023
The kitchen garden program started with a comment made by a staff member during a visit to the Warrnambool Community Garden:
"Wouldn't it be good to have something like this at the school?"
This was motivation enough for two community garden volunteers to approach Warrnambool East Primary School to perhaps use their skills to develop a Kitchen Garden Program.
Di Pettigrew and Heather Ryan started the program in May 2018 to bring pleasurable food education to Grade 3 and 4 students over a five-week block, with four weeks of gardening and one week of cooking. Each week, topics taught include composting, weeding, planting, harvesting, seed saving, pest control and maintenance.
Heather has since developed a kids gardening program at the Warrnambool Community Garden in December 2021, commencing after school sessions in February 2022.
We interviewed Allesha Gardner, Warrnambool East Primary School's kitchen garden specialist who walked us through the school's journey with their kitchen garden program.
Read on to learn more about how this school started small and dreamt big, with their kitchen garden! 
Q: Can you share a special story from your kitchen garden program?
"I really enjoy it when we have had our five weeks in the garden and then it's time to do the cooking session with all the vegetables that the students have been tending to and observing during their garden sessions. They are always excited and sometimes surprised by the changes in the garden's growth that happen from week to week.
My favourite is when I have a parent come up to me at school saying how their child wouldn't eat a particular vegetable until now because in the cooking session it was prepared or cooked in a different way to how they would normally have it at home. It's the connection they have had with that particular vegetable, over a few weeks, that makes it even more intriguing to try. That's when I know our program is working."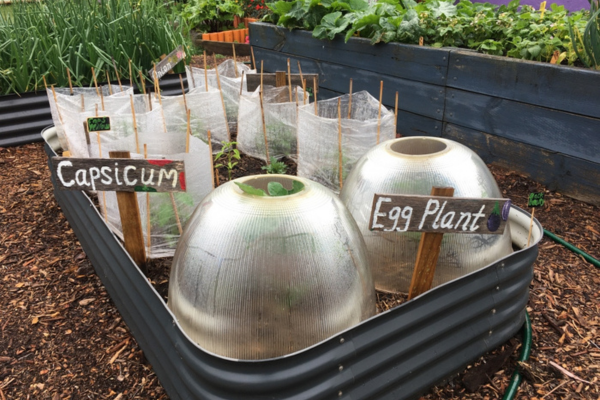 Makeshift hot houses in Warrnambool East PS' garden. 
Q: Show us how you started!
"The kitchen garden program at Warrnambool East Primary School was established in 2018. Our garden space began as an unused, dry, and barren corner of the school which used to be a playground many years ago. Our school gardener, Mr Jimmy Boxer, was the driving force behind the project with a small group of two teachers, two women from the community garden, and the Hands-on Learning students. They worked tirelessly to transform the bare space into a safe, workable kitchen garden space.
I began volunteering at the beginning of 2020, after seeing a notice at the end of 2019 in our school newsletter seeking volunteers to help with the kitchen garden program. This suited me to a tee: outdoors, getting my hands dirty, doing something I genuinely love and love to share.
As a parent, I think it is important to support, be involved in and give some time back to the school and its staff who work tirelessly to give our children the best possible education and opportunities they can. To be a role model for my children, by being actively involved with the school, is really important to me.
I put in many volunteer hours at the garden throughout 2020 to 2022, but I wouldn't have had it any other way. I love gardening and cooking, and I find it really grounding and good for my soul. I read a quote one day that really resonated with me: "If you have something to give, above all else, the best thing you can give is your time."
Now, in 2023, I have a paid position of six hours per week to maintain the garden and plan and run the garden and cooking sessions. I continue to do a few extra volunteer hours. I find it really rewarding and fulfilling being able to experience the curiosity and wonder of children as they explore and learn in the garden and kitchen."
Q: What did you start with?
"We started with both a kitchen and a garden.
Our garden began with one raised garden bed measuring 10 metres by 1 metre, made with wooden sleepers. The soil for this was barrowed and shovelled in all by hand (our garden has no direct access for vehicles). An old bath was used as a worm farm, a second-hand compost bin was donated, as well as some refurbished basic tools. Volunteers and teachers scrounged a few vegetables and herb seeds and cuttings from their own gardens to get started.
Our kitchen journey began in our small, shared multipurpose school kitchen, which is still where we run our cooking sessions today. To begin, we sourced kitchen equipment by asking families to donate unwanted items from home. Our kitchen has always been, and still is, very basic and small with one oven, one stove top, one sink, one main bench and open storage shelves. After each four-week block, a menu is devised around the produce harvested from the school's own garden and the available equipment."
Heather, co-founder of the program at Warrnambool East Primary School, recalls that the garden program commenced with each volunteer initially supplying their own equipment for the students to share.
"Site observations and notes were taken on sun and wind directions before a plan was drawn up to include a storage shed and allow other infrastructure to be built as funds were sourced. Volunteers were recruited to help facilitate small groups within the kitchen and garden classes. Donations were also sourced to advance the program by writing letters to local businesses and engaging with our local community."

– Heather Ryan,  Co-founder of Warrnambool East Primary School's Kitchen Garden Program.
Q: How has the program changed over time?
"Our garden has evolved over the past six years from a bare patch of dirt, sand, and weeds in 2018 into a thriving, inviting, green oasis.
2020 and 2021 were challenging years, but also blessings in disguise. Five weeks into the year and our kitchen garden program was put on pause for students and most volunteers. I remember chatting with Jimmy, our school gardener of 30+ years, at this time and he couldn't bear to think what was going to happen to all the hard work that he and many others had put in to establish the garden. Jimmy has seen it time and time again, when a project is established but the ongoing maintenance slowly fades until it becomes an unsightly and forgotten space. I took this as my motivation to not let this program fail. During the lockdown phase I used my 'activity' time to maintain and make some more additions to the garden.
In 2022, we saw the return of garden and cooking classes. The original founding program staff and volunteers had moved on and it was up to a fresh group of parent and grandparent volunteers to continue the kitchen garden journey. A few more additions were made to the garden, including more metal garden beds, another worm farm, several more compost bins, and planting some more fruit trees and plants. The kitchen had a huge tidy up and we were able to purchase many much-needed pieces of equipment to make our cooking sessions much easier and reduce the need to bring equipment from home.
And here we are now in 2023! We've found our groove in both the kitchen and garden. The garden is at the stage where we just need to maintain and nourish it, to continually plant and harvest beautiful produce. The garden supplies us with bountiful produce to use in cooking sessions, sell to staff and school families, share with those in need, and use for whole-school events.
The kitchen is still the same as it was to begin with, we just have a bit more equipment. Our sessions are becoming easier as we improve, adapt and fine-tune menus as the seasons change."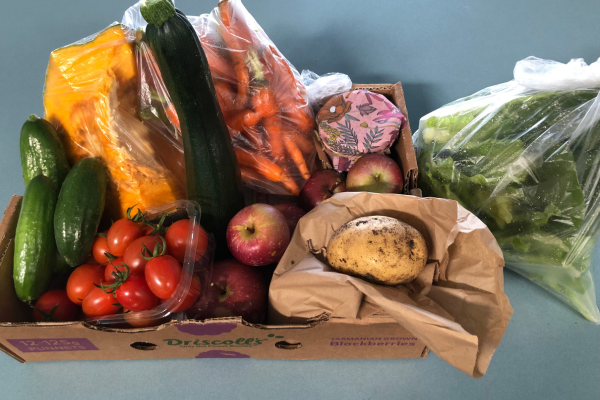 Produce grown by students for Food Share. 
Q: How do you currently fund your program?
"Currently, our program is funded by the school with a $250 budget per term to purchase resources.
Now that our program is well established and set up, I find this budget reasonable in terms of maintaining the garden and purchasing cooking ingredients. This year is the first year of the program where the school has employed a kitchen garden specialist to plan and run the sessions. Currently this position is six hours per week. 
We continuously write letters and grants, enter competitions, and seek donations from our school community which also helps immensely with resources.
We run regular school community stalls and staff room stalls where we sell fresh produce, preserves, plants and seeds from our garden. The monies raised are put into our kitchen garden fund for future big-ticket items such as replacing worn kitchen appliances, purchasing timber to maintain our garden beds and fences, and, hopefully one day, a hot house and outdoor classroom - maybe even a purpose-built kitchen."
Q: Can you give us a summary of the sessions you run?
"Our kitchen garden program now runs for six weeks with Grade 3 and 4 classes, with all other year levels also visiting the garden regularly as part of their learning.
We have five one-hour sessions in the garden and during the sixth week we have a two-hour cooking session. We give the students a hands-on experience with as many aspects of gardening as possible including planting, harvesting, tool safety, garden maintenance, weeding, composting, worm farms, seed saving, and pest control, alongside art/science garden activities, and cooking and selling produce.
Because each class only cooks once, we give them a full dining experience: harvesting produce from the garden the day before, preparing and cooking part of the menu, washing up, setting up the dining space and coming together to share a mini three-course menu. It is a busy two hours which everyone thoroughly enjoys."
Q: What is your vision for your program?
"My vision is to one day see this program available to all year levels. This takes a lot of planning, resources, and staffing; therefore, a lot of extra funding is required.
Students, staff, parents, and volunteers all really enjoy the kitchen garden program. For Grade 3 and 4 students, it is something they really look forward to and is a highlight of their year."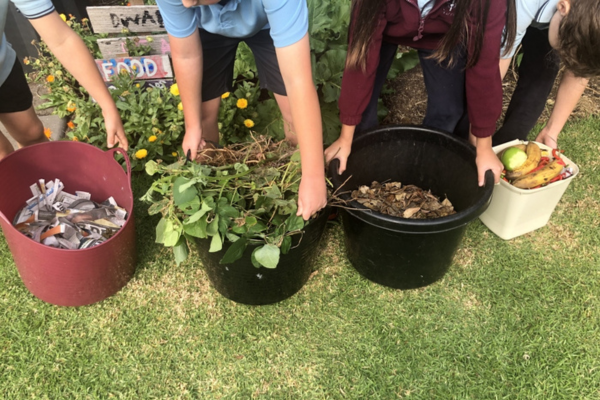 Students learning how to compost. 
Q: What are the benefits of your kitchen garden program?
"Our students come away at the end of the program with a basic understanding of both cooking and gardening, and the knowledge and skills to put some of their learning into practice at home. Even if it is as simple as knowing which is the correct bin for food waste to go into, or how to plant and care for a seedling, or how to wash a knife safely; all these little things are essential skills for life.
The garden and kitchen can be an unfamiliar place for some students so being able to expose them to these opportunities is a positive part of their education. Teamwork and cooperation come into play during our sessions and it's great to see students, teachers and volunteers all working together to complete activities and share the end result.
It brings me joy when students who have been through the program for one year, come back the next and are so excited to be the composting leaders because they remember what to do; or when students notice the seasonal changes throughout the year and are proud to share this with me as I'm passing through the school yard." 
Q: What have some of your challenges been?
"Having enough volunteers to help with the program is and has always been our main challenge.
As with most programs who rely on volunteers, there is a shortage simply because the increased cost of living means both parents need to work more to contribute to the family income and grandparents are staying in the workforce for longer. 
Our kitchen is a challenge in the sense that it is a very small space and in a building that is shared with PE and the nurture room. It takes an hour, or so, to set up and pack up for each session as we have to set up several trestle tables in the adjoining stadium foyer and get out every piece of equipment needed before the session even begins. All the equipment is stored in tubs which we move from the shelves each time we need them. The sink is very small so there is always a bottleneck of washing up to do at the end of the session. We plan our menu around only one recipe needing the stove and one needing the oven and then being able to use other appliances for other recipes.
Funding is another challenge. Up until 2023, the kitchen garden program was planned and run by volunteers. We never had a kitchen or garden specialist employed by the school to run the program, although we did have a Grade 3 or 4 class teacher whose role was also as the kitchen garden coordinator, providing support and acting as a communication channel between the staff and volunteers.
This year, I have been fortunate enough to be given a paid role, one day per week, to plan and run the program. We still have a kitchen garden coordinator whom I communicate regularly with to ensure the program runs in the best way possible."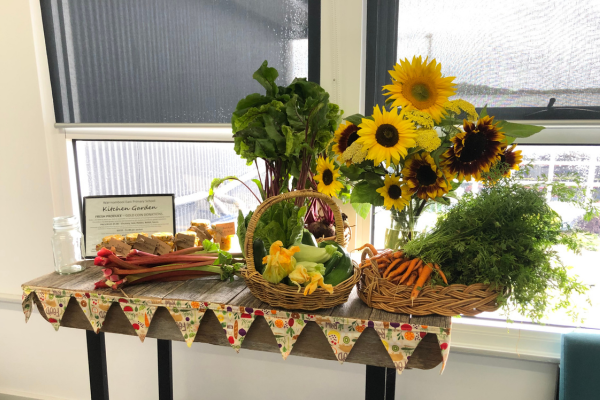 Produce trolley filled with freshly grown goodness from Warrnambool East PS' garden. 
Q: Do you have any tips for those just starting out?
"Start small, dream big!
Small is exactly how we began, and as we became confident that what we had was manageable, over time, we slowly introduced new garden beds and new activities to our program. Everything was one step at a time, so it didn't become overwhelming.
Make use of Stephanie Alexander Kitchen Garden Foundation resources. The member portal, the Shared Table, includes incredibly helpful resources, taking a lot of the thinking out of planning sessions. Allow time to post photos and stories of your journey to the Shared Table or create an Instagram account. The connections you create through the network of like-minded people are so valuable. Take time to read about and connect with other schools' kitchen garden journeys; this is where you can draw ideas and inspiration from.
Some more tips include:
Reach out to local businesses to donate goods for your program.
Keep an eye out for grants which might be applicable to you and find someone who has skills in writing applications.
Stock up on cutlery, plates, bowls and baking and serving dishes at op shops (you don't need everything to match or be the best!)
Make use of Facebook Marketplace to find free or cheap worm farms, compost bins, and other garden related items.
Ask families to collect things, such as autumn leaves for compost, clean jars for making preserves, old shoes, clothing and hats for scarecrows, or horse, sheep and chicken manures."
Q: Do you have any tips for the longevity of a program?
"Again, start small, dream big!
The garden and kitchen are never 'finished' projects; there will always be ongoing maintenance and improvements to do, with some seasons busier than others, so pace yourself and be prepared for the long haul.
Think of the students while doing so, they are your motivation.
The program has to be something you enjoy and look forward to; if it becomes hard work and a burden, make some changes. The garden and kitchen should always be happy places. 
If things get busy, only complete the necessary tasks, and add the others to a list which you can tick off during the quieter times of the year. It may help to keep a diary, where you can also look back on activities or planting schedules from the previous year. Also, don't be scared to ask for help! There is always someone who can lend a hand.
Form a core team of two to four people who know the ins and outs of the program so it can keep running if someone is away. We're not quite there yet with this aspect in our program, but we have flexible timetables and timeframes which allow us to adjust the program when needed during the year. 
Thank your volunteers! Make an effort to show your appreciation. The students should thank them after every session, either through writing a thank you letter or giving a gift from the garden.
Promote your program in school communication channels such as newsletters. Set up stalls or displays of your garden at school events. The more you share your kitchen garden program, the more people will become interested in supporting it!" 
Members can see more photos from Warrnambool East Primary School on the Shared Table.
Want practical tips and tricks to creating an engaging kitchen garden experience? Register now for our 'Start Small, Dream Big' webinar, happening 3 pm, Wednesday 6 September.
This story is part of a series, published in celebration of Kitchen Garden Month, with the aim of spotlighting Kitchen Garden Program member schools that started small and dreamt BIG!
< Back to Latest News