Revamp your volunteers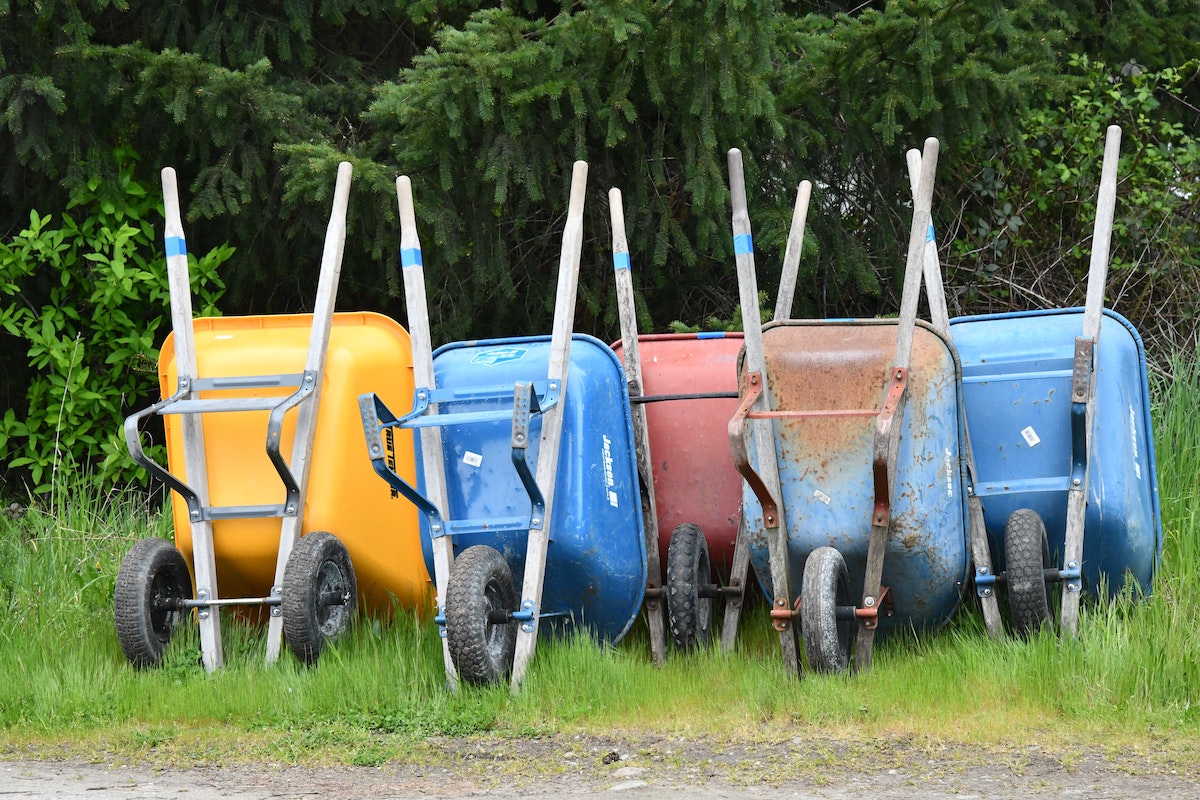 Friday, October 21, 2022
From pulling out weeds to providing an extra set of eyes in the kitchen, volunteers are an essential ingredient in any kitchen garden program. With the year coming to a close, it's the perfect time for educators to start thinking about recruiting new vollies to invigorate your program in 2023 – and get the garden back into shape after the long, summer break. 
It's not just schools and services who stand to benefit from community involvement, many volunteers find lending a hand at their local kitchen garden program an incredibly fulfilling experience. Carolyn Wray started volunteering at Westgarth Primary School to spend time with and support her daughter, "Showing I value her and her education," she says. "The other reason was I really value what the Kitchen Garden Program promotes – kids need to know how to cook delicious food." 
Carolyn says her own knife skills have improved through taking part in the classes, and she finds the interactions with teachers and students rewarding. "I love seeing the children and getting to know them a bit more," she says. "And I really love how delighted my child is to have me go in." 
An opportunity to connect with students also motivated parent Megan Parfitt to lend a hand at Kallista Primary School, where she was impressed by the way the class banded together to create a delicious meal. "Today the children demonstrated negotiation, leadership, following directions, maths, comprehension, active listening – all leading to the enjoyment of eating what they had spent hours creating," she recounts of her time. "I enjoyed sharing this experience with my daughter and her class."
Hear from volunteers and educators at Weeden Heights Primary School, explaining the mutual benefits of volunteering at the Kitchen Garden Program
Getting volunteers on board may seem like a daunting experience, but there are plenty of avenues available. Start by reaching out to former volunteers you may have lost contact with, make an announcement during assembly, and appeal to parents in the school newsletter. You may also want to consider asking older students if they would be interested in getting involved. The Foundation was delighted to see a former Wonga Park Primary School student returning to the Kitchen Garden Program recently, to lend his time volunteering in his younger sister's class. 
Student volunteers come with a wealth of creativity, enthusiasm, and good ideas to offer. In return, the volunteering process can give students the opportunity to develop social skills and confidence, explore career options, and connect with their community.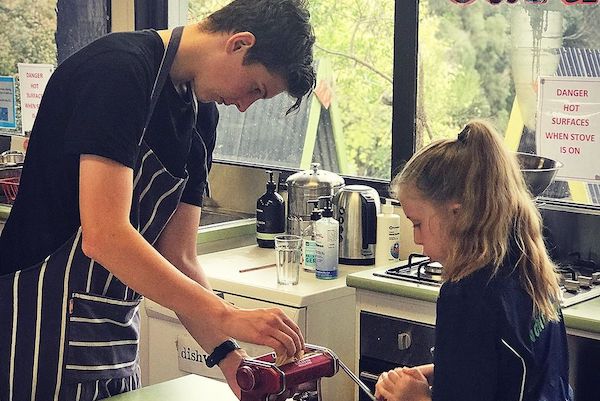 Former student coming back to lend a hand at Wonga Park Primary School 
Once you've managed to get volunteers on the roster, it's important to keep them engaged by letting them know your plans for the future and showing how important they are to the success of your program. Consider asking students to write thank you notes, running information sessions to keep everyone updated, as well as end-of-year celebrations, and inviting volunteers along to working bees that allow them to see and connect with the space – as well as show it off to the rest of the school or service community.
For more ideas and resources members can check out the volunteers resource on the Shared Table - see link below.
If you get the mix right, volunteers are more likely to form an attachment to the program and stay in it for the long haul – like Peter Arnott, who has been giving his time to help children in the kitchen and garden for almost 20 years, after reading an article in the local newspaper in 2003.
Being involved in the Kitchen Garden Program has allowed Peter to give something back, strengthening his sense of social connection. "Volunteering at Collingwood College provided the opportunity to do something within my own local community," he explains. "And from the start I felt welcomed and comfortable."
Seeing a positive improvement in the food habits of children encouraged Peter to keep going. "There had been a big change with children eating cheese, carrot sticks and fruit for playlunch, and much healthier options for lunch," he says. "I am sure the kitchen garden program helped bring about this change."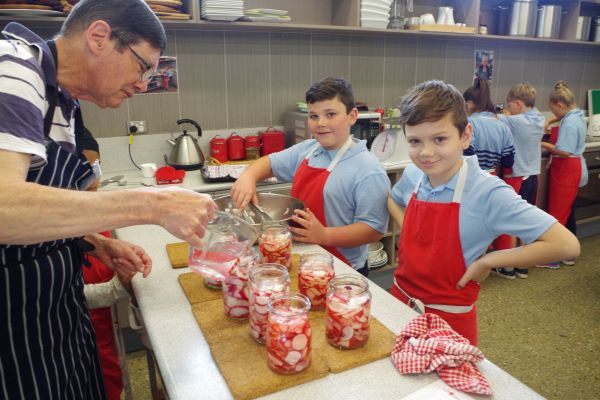 Volunteers are an extra set of hands, eyes and ears to help keep the day's activities running smoothly. But they can also provide the resources to get more ambitious projects and ideas off the ground, like the café at Chevallum State School on the Sunshine Coast. According to Program Coordinator, Judy Fisher, the Café C initiative provides opportunities for parents who wouldn't normally volunteer in the classroom, creating a more inclusive school community.
The cafe turns produce grown and harvested in the Kitchen Garden Program into nutritious school meals such as tuna and cucumber sushi, salad wraps, Greek salad, and spinach and feta rolls. "Everything is cooked from scratch," says Judy, explaining how the project has helped transform the cultural and social norms of the whole school community.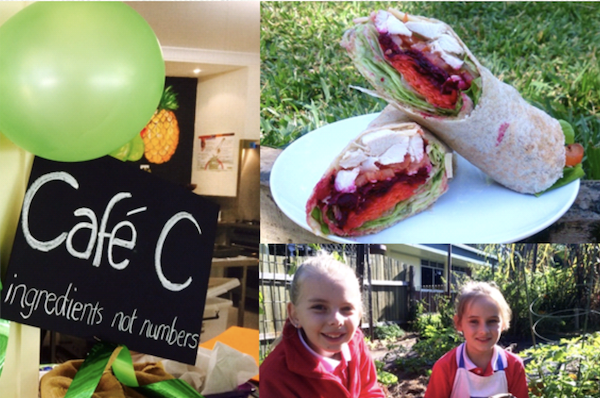 No matter where you are in your Kitchen Garden journey, there's no doubt it can benefit from bringing in volunteers of all ages and backgrounds. By the same token, many parents and carers cherish their experiences contributing to the Program.
It's the perfect time to consider adding volunteering to your New Year's resolution list!
Our Volunteers and Kitchen Garden Program Collection on the Shared Table includes useful tips and suggestions for attracting, retaining and managing volunteers.
Interested in helping out? Search for schools running the Kitchen Garden Program in your area and contact them directly to discuss how to get involved.
< Back to Latest News